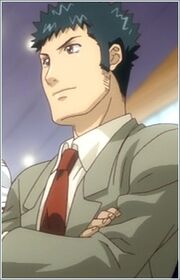 Also known as "Kojirō", he is the kendo instructor, and also a teacher of politics and economics, at Muroe High School. He is perpetually impoverished and lives from paycheck to paycheck, often taking handouts of food from his students. He is offered the chance of a lifetime from an old senpai -- a year's supply of sushi if his female kendo team can beat his senpai's in a practice tournament. Kojirō's parents own a convenience store, but it is revealed that they used to own a store that sold sake. In high school, he was a member of the kendo club, and at that time he defeated his senpai, Kenzaburō, at a tournament to win a trophy. Though he has little affinity for the trophy itself, he cherishes the memory of his victory over Kenzaburō -- though he told Kenzaburō his victory was due to luck, he personally believes he won was because he was stronger than his senpai.
Ad blocker interference detected!
Wikia is a free-to-use site that makes money from advertising. We have a modified experience for viewers using ad blockers

Wikia is not accessible if you've made further modifications. Remove the custom ad blocker rule(s) and the page will load as expected.